As people with a useful skill, we enjoy contributing to our community.
We sew interesting hospital gowns for hospice patients. We sew some gowns during the year, and dozens during a day-long sewing party in the fall — volunteers are welcome to help!We support the Sedgwhick County 4-H Garment Construction project, including providing prizes and gifts for the annual Style Review.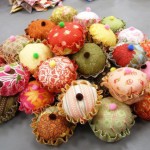 We participate in the annual GownTown event, providing on-the-spot alteration services for high school students selecting dresses and suits for prom.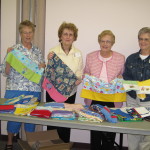 If you have a project you would like help with, please contact us.